Trident Restoration is a full-service restoration company that offers 24/7 Emergency Services for water, fire, mold, and storm damage. They are one of the many companies that use Cold Jet dry ice blasting technology to complete their jobs. They have used the Aero® 40FP, one of our dry ice blasting machines, for over 8 years, and plan to grow their inventory with some new machines when they expand! See below for a Q&A with the Vice President of Trident Restoration, Eric Long.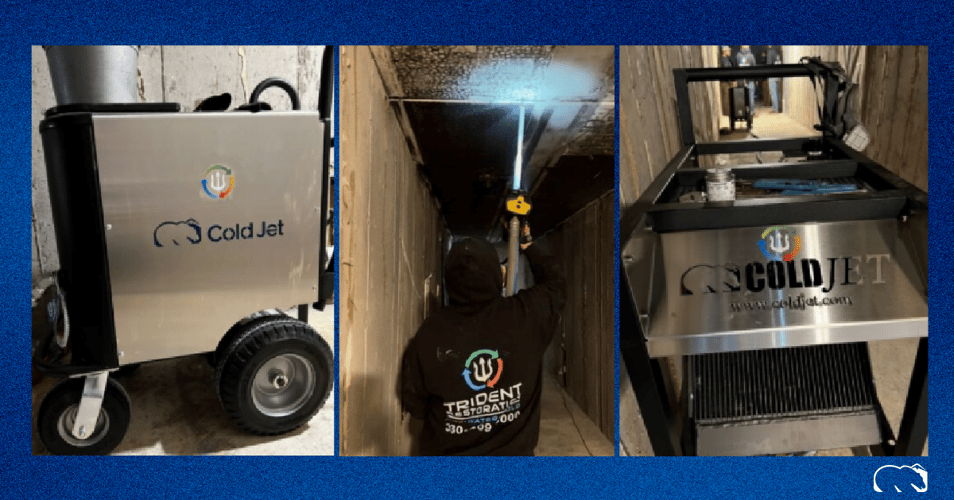 Interview Questions
Can you tell me about Trident Restoration?
My business partner and I started in restoration about 15 years ago. We worked for a franchise. He did sales, and I did operations. We decided to go on our own back in 2018. We started Trident with 6 employees and have grown to 57 employees. We are a full-service general contractor so we do everything from mitigations, pack outs, cleaning, and full-service repairs. Right now, we are just in Northeast Ohio but we travel for storms and emergency work all over the country. We have another business partner that does retail construction across the United States and they are our financial backer. We piggy back on their relationships across the country. We plan on growing and opening a location in Columbus and Pittsburgh by the end of 2022.
What is the industry/application that you use dry ice blasting for?
Mainly we use dry ice blasting in commercial settings after fires for smoke and soot removal. You can review our blog that speaks specifically about that on our website. We bought an Aero 40FP specifically for commercial projects and all fire related projects. We have used it on some larger mold projects and specialty cleaning too. We have jobs in commercial settings where we have to clean machinery or equipment that can't get wet, so we use dry ice.
What are you cleaning? What is the contaminant?
Smoke and soot removal are the biggest contaminant, but we do use it in mold applications when it's large enough.
What are some of the challenges or unique elements of these projects?
The first one we used the Aero 40FP on was a Fortune Factory so we couldn't use any water because of the oil pits. We couldn't power wash because of the water, and it was dangerous to hand wash because if you drop a bucket in an oil pit it could start a flash fire. That is what got us turned on to dry ice to begin with. The last project I used the blasting machine on was at a welding facility. We couldn't use any kind of water on this project. The cleanliness of the product we are blasting, and the fact that you don't have the media to clean up afterwards, is another reason why we use dry ice.
What kind of efficiency gains do you see from using blasting machines?
Time savings using dry ice is way more convenient for us. When we work in insurance industries, we only get paid allocated for square footage. We don't get paid for clean up time. Using dry ice and cleaning up the little debris that is left is way more time and cost effective for us to not have that much to clean up.
Why do you think you were selected over competitors?
Our biggest attraction is our call to action. As soon as someone calls we are able to start work. I got a call at 4 a.m. to do an emergency clean and we brought the dry ice in and got the facility cleaned quickly. They only lost two days of production. Our experience and our ability to know what to do and how to do it is usually what leads people to select us over competition.
How did you clean in the past?
Corn cob blasting

Walnut nut shell blasting

Soda blasting

Sand blasting

Hand cleaning

Pressure washing
Why did you choose the Cold Jet solution over alternative options?
I was first introduced to dry ice in a class. In the past we have always used sand or walnut shells. The class got me interested in dry ice so I did a ton of research to see different machines and types, and when I went to buy one I went straight to Cold Jet.
Are you happy with the outcome of the clean?
Yes, absolutely! We can't wait to get more machines when we expand.
What features do you like most about your Cold Jet machine?
The machine is very easy to use and very user friendly. I walk through the machine with the guys for about 5 minutes and they are off and running. When we used sand or baking soda, the training to be able to use the machine was a lot more intense than Cold Jet's machine. The clean up is easy and there is not a bunch of parts you have to take apart to maintain the machine.
For more information about Cold Jet and our dry ice blasting machines, please visit our website at coldjet.com. Also, you can find information about Trident Restoration at https://www.trident-restoration.com/.