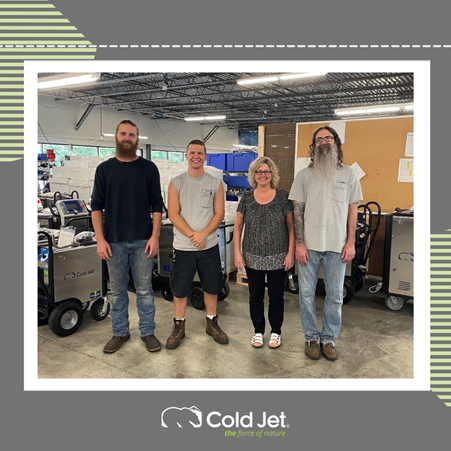 We're always proud when someone in the Cold Jet family accomplishes something great and exemplifies our culture. Here are just a few noteable highlights from the last quarter of Cold Jetters who have shown stand-out performance.
1. New Machine Tests
Test trials for new Cold Jet machines involved the installation of four machines at four different customer locations. The test trials accounted for 160+ hours (and counting) of blasting in facilities in order to evaluate the design, performance, etc. None of this would have been possible without the hard work and dedication of our Cold Jet family!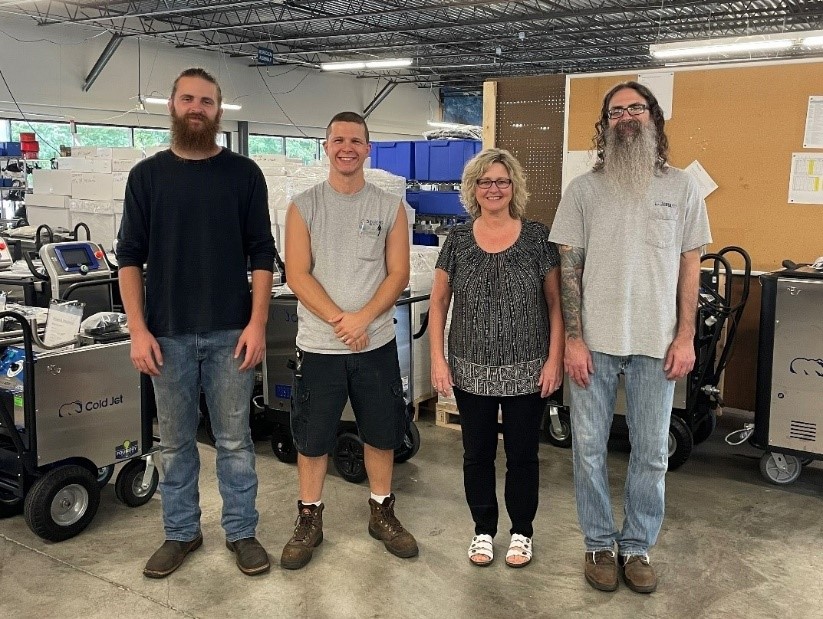 We're proud to highlight the team whose hard work and dedication made the test trials possible: (left to right) Dylan Miller, Brandon Kendall, Natalie Trammell, Wayne Miller, and Robert Campbell (not pictured).
2. Cold Jet CONNECT Analytics
Bob Gruen loves working at Cold Jet so much that he started developing Cold Jet CONNECT at home in 2019. Now, Cold Jet CONNECT is a live addition to Cold Jet's arsenal, allowing users to monitor key data and analytics on enabled machines through Internet of Things (IoT) technology. It also provides remote technical service via an augmented reality platform to reduce machine downtime and overall cost of service.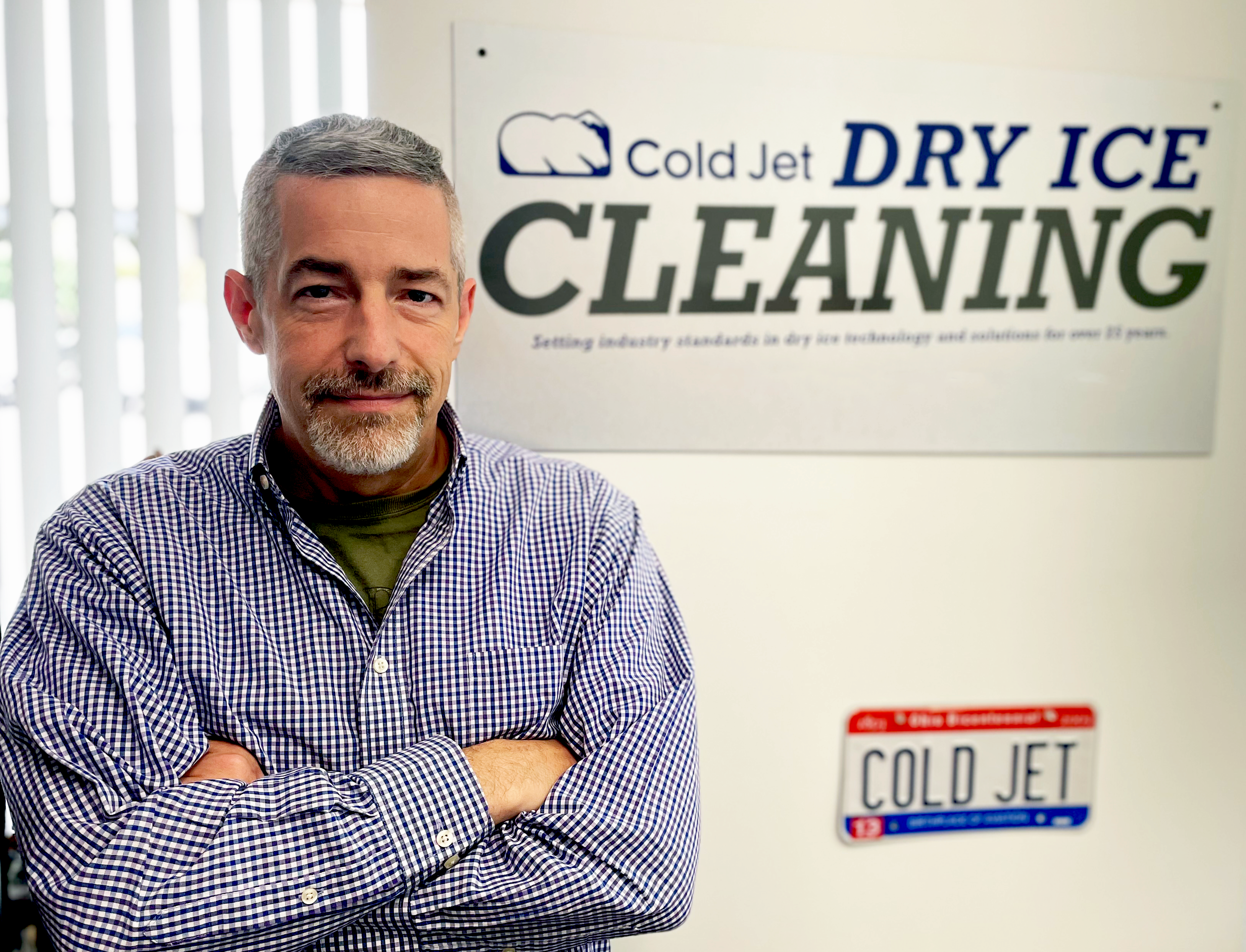 Bob says he enjoys working in an environment where he's able to conceive a new idea and bring it to fruition, stating, "there's never a shortage of good stuff to work on. And it helps that we make cool stuff!"
During his tenure at Cold Jet, he's had his hands in a variety of fun and exciting new projects. He's thankful for the leadership at Cold Jet, which he feels is head-and-shoulders above other businesses of similar size.

3. Company Culture in Denmark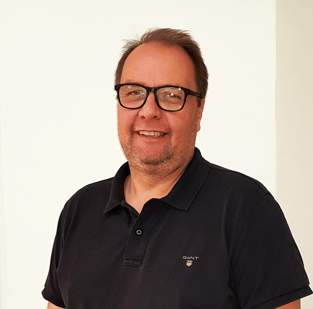 Having worked at Cold Jet for over 5 years, Jan Erik has done a tremendous job as a warehouse manager in Denmark. When members of the US team visit Jan Erik's location, he is extremely helpful at providing insight, acting as liaison to his team, and offering a cold Coke or a good joke to lighten the mood. It's people like Jan Erik that make the Cold Jet family what it is today.
4. New Innovations
Bruce Xu of Cold Jet China developed a new way to monitor dry ice usage in automated systems by measuring the flow rate of compressed air at the entrance of the equipment and the temperature of the air at the outlet of the blast hose, and wrote a set of programs to verify the feasibility.
Even with this extremely helpful innovation, Bruce said he believes Cold Jet can improve and is experimenting with new techniques, sensors, and methods to make collecting and utilizing data easier and even more precise.

5. Going the Extra Mile for Customer Service
Roger Zhao has been with Cold Jet for nearly 7 years and enjoys that his job brings a variety of challenges for him to solve.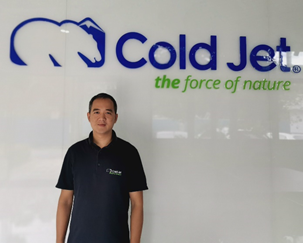 In one particular situation, Roger worked through the night providing service to ensure a machine would be functional by the following morning. We thank Roger for his wholehearted eagerness and concern for his customers. His efficient and professional service is an important reason why Cold Jet is the global leader in dry ice blasting and production equipment.

6. Stepping Up to Challenges
With a coworker going on maternity leave earlier than foreseen, Heike Backes had to jump in with both feet and run the German marketing department on her own. She assisted with the job placement of a new marketing team member, training them to handle the daily marketing tasks.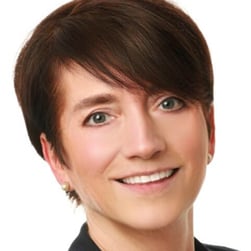 In the meantime, Heike was knee deep in her new responsibilities - from sales and marketing, to HR - and had already mastered various digital platforms and tools. Her dedication is a great example of the enthusiasm that permeates Cold Jet and helps us achieve greatness.
Thank you to everyone whose hard work defines Cold Jet and makes us successful!