PET molders constantly need to improve their OEE Availability, Quality and Performance Scores, all while lowering costs, extending the life of their tooling and improving their workers' environment and safety.
What if PET processors could produce 6.5 million bottle preforms more per year?
Find the answer in the article "PET molding is like car racing - speed and control are king. Cold Jet introduces a simple way to improve production processes" published in the issue 9 / 2020 of PETplanet Insider magazine.
For an injection or a blow molder, molds are a mission critical asset and require timely, proper, fast, and efficient cleaning to ensure uptime and part quality. When the molds are not cleaned properly and on a regular basis it may cause blemish and unwanted flash on the final product, filling problems which lead to quality problems, and longer production cycle time. In addition, solvents and other waste-generating cleaning processes are bad for the environment and are not acceptable for the health of the PET bottlers.
Cold Jet's dry ice cleaning technology provides an easy solution that saves time and improves processes. Resulting in a 3-5% increase of productivity and investment returned in just a couple of months. Additionally, with Cold Jet's dry ice blasting equipment, PET molders avoid the usage of chemicals.
"The PET industry has never had one smart machine with the ability to adapt the cleaning process to so many different applications in plastics and rubber molding," said Steffen Kalisch, Key Account Manager, PET Industry, Cold Jet Europe. "This is the reason why Cold Jet has released the PCS 60 machine."
The PCS 60 features Cold Jet's patented Particle Control System™ (PCS). This allows molders of PET to have a greater degree of versatility in all of their cleaning applications. With the PCS, a PET processor can use one machine to clean many types of surfaces, such as steel molded, coated components of molds, and aluminum or beryllium insert blow molds.
PET molding is like Formula 1 racing – speed and control are king. The PCS 60 machine adjustments quickly allow PET processors to adapt for the different cleaning requirements of numerous components of the processing equipment. The cleaning of lock rings, neck rings, cavities, take out tubes, cores, gate inserts, and tapers can all be cleaned on-site, without disassembly of the stripper plate.
The PCS 60 is not only the most technologically advanced dry ice blaster on the market, it is also the easiest to use. With a 7" LCD color screen and digital controls, the PCS 60 provides an intuitive display that allows the user to easily view and adjust blasting parameters and machine settings. The machine also features programmable and password-protected application recipes. A PET processor can save one application recipe for one of their injection molds and another application recipe for their blow molds or even the air conveyors. This prevents user error and ensures the right parameters are used for each unique application.
The PCS 60 is IoT enabled via Cold Jet's Industry 4.0 solution, Cold Jet CONNECT®. The system provides remote monitoring and diagnostics while allowing users to collect and manage data and employ tools for optimum performance and productivity.
The optimized design of the PCS 60, including a straight through air system and redesigned feeding system, minimizes pressure loss and dry ice sublimation within the machine. Savings on dry ice and compressed air and the higher performance of the PCS 60, in combination with reduced noise level, helps PET processors to clean faster and with a greater power.
Benefits of PET mold cleaning with dry ice:
cleaning time reduced by 2/3

safer and cleaner than before

70% faster return to production

less mold wear

no chemicals needed

no secondary waste

certified food grade CO2
The table below shows return on investment (ROI) in Cold Jet dry ice cleaning equipment. The example is calculated based on maximum production, pre-set mold cycle time, estimated profit per preform, etc.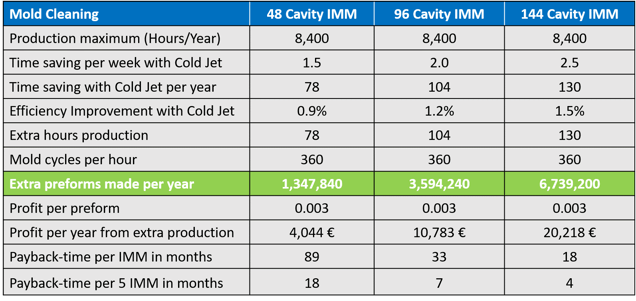 "Dry ice cleaning technology simply increases production time," said Steffen Kalisch. "With the PCS 60 we can save on resources and cost, improve the process, and what is crucial is that we can build more than 6.5 million PET preforms extra per year while using 144 cavity IMM."