The February Contractor of the Month is The GeoFocus Group in Vaughan, Ontario, Canada.
The GeoFocus Group provides complete construction and renovation, real estate photography and marketing as well as expert consulting and support services to a variety of industries throughout Ontario. Founded with the advanced knowledge and experience that is typically associated with larger firms, The GeoFocus Group continues to impact the industry with principal-driven, client-centric services that are infused with the team's diverse expertise and passionate focus.
Through its dry ice blasting division, The GeoFocus Group utilizes dry ice to clean a variety of surfaces in many different sectors. Projects include remediation of mold contaminated surfaces, remediation of fire and smoke damaged surfaces, and cleaning surfaces of contaminants in industrial facilities.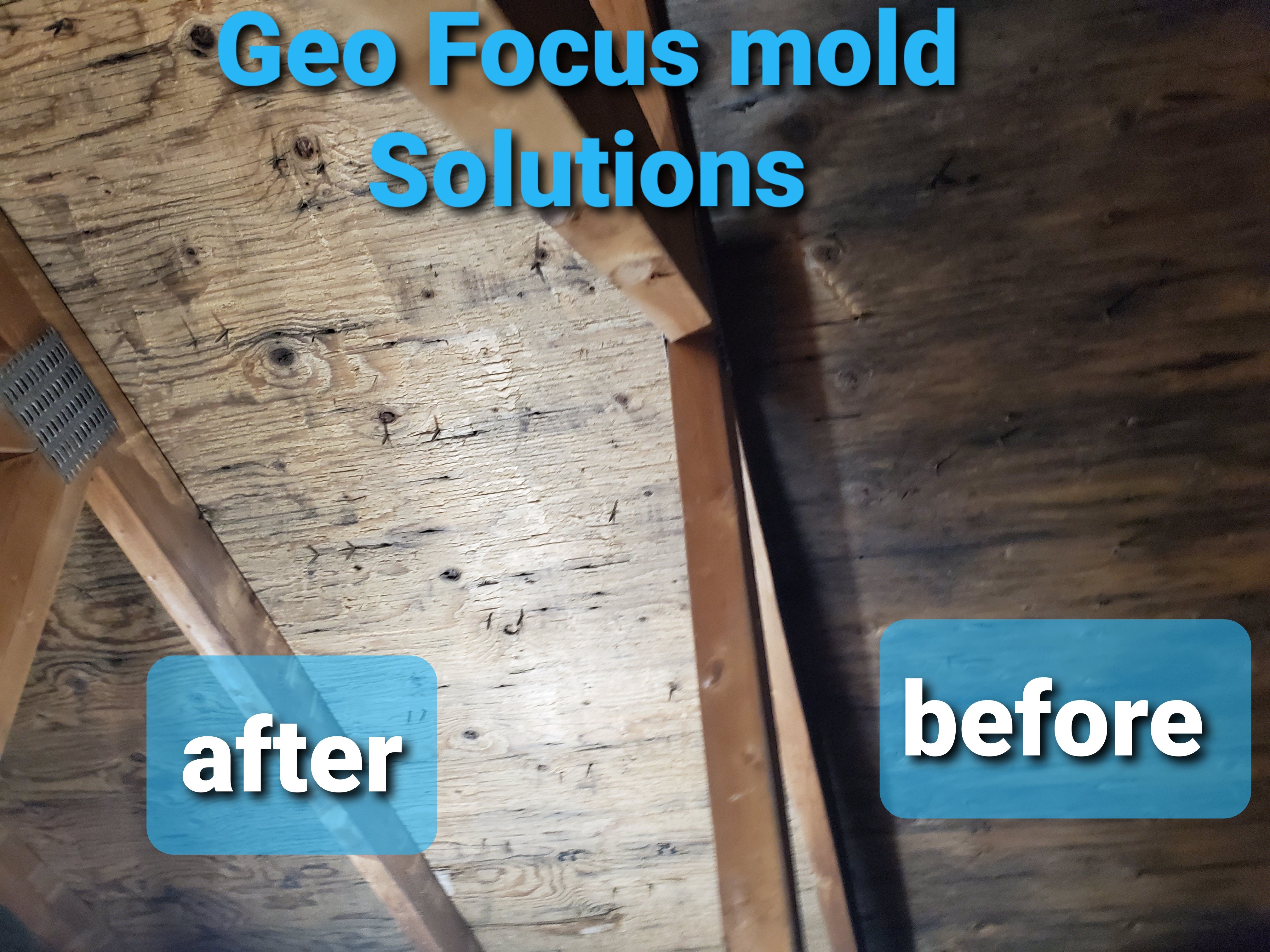 Mold remediation
A typical project for The GeoFocus Group's dry ice blasting division is mold remediation in residential attics. The plywood sheathing of the roof is often a common area for mold growth.
In one particular case, a homeowner was looking to sell his house and had a home inspector do a pre-inspection. The inspector noticed considerable mold growth in the attic. The homeowner contacted The GeoFocus Group and the company got to work with their Cold Jet Aero 40FP.
This was a low peak attic so it was very challenging for the crew to move around with their equipment. The crew also had to deal with poor ventilation and had to utilize special respirators in order to maintain a safe working environment.
Setting up containment is an important factor in mold remediation projects. When utilizing dry ice blasting within mold contaminated properties, containment is extensive and includes the use of HEPA air filtration devices in order to maintain negative air pressure in the project area. Containment is standard and follows the CC 82 guidelines, but usually containment is a stage 2 or 3.
However, containment varies from application to application. In comparison, when blasting in industrial settings, dust suppression methods are typically engaged to minimize contaminant dispersal throughout the work area.
Overall cleaning time for this project was five hours and required a crew of only two people. Before utilizing dry ice blasting, the crew would use hand sanders and wire brushing to remove the mold, which could take up to two days and would require a crew of four to six people.
Watch The GeoFocus Group in action:
Why did The GeoFocus Group choose dry ice?
Prior to implementing the dry ice process, The GeoFocus Group's technicians utilized manual abrasive methods, which were both time consuming and labor intensive. Utilizing manual abrasive methods typically took 2-4 times the amount of labor and time as opposed to dry ice blasting. Manual abrasive cleaning is also very stressful on the worker performing the cleaning.
"Savings in time, money, efficiency, and resources to remove the water or chemicals afterwards," said Lavar Blake, The GeoFocus Group. "Utilizing dry ice has been a significant boost to our production. Contaminant removal has been streamlined and efficiency has been increased, which allows us to increase the amount of work we are able to successfully undertake at any given time."
Another major factor for the company was the elimination of harmful chemicals from the remediation and cleaning projects. The GeoFocus Group refuses to use harsh chemicals. They are not effective at fully removing the mold and they are also a health risk to their employees.
"Dry ice blasting is the best technique to remove mold from attics," said Blake. "Dry ice blasting is highly recommended."
Not only does dry ice save time and money on each project, but The GeoFocus Group is now able to perform multiple jobs on the go.
The company also utilizes dry ice blasting for graffiti removal, high voltage hydro cleaning, fire and smoke remediation, crime scene clean-up, paint removal, and many more applications.