Based in Concord, North Carolina, CMC Industrial Services provides expert cleaning, restoration, and surface preparation solutions for commercial, industrial and residential customers throughout the Eastern United States to the Mississippi River.
Mike Coleman, President of CMC Industrial Services, has seen incredible results since incorporating Cold Jet dry ice blasting into their service lineup 14 years ago. Before embracing dry ice blasting, Coleman wasn't satisfied with the results of blasting with abrasives, such as crushed glass and slags. Previously, the company primarily focused on abrasive blasting and pressure washing.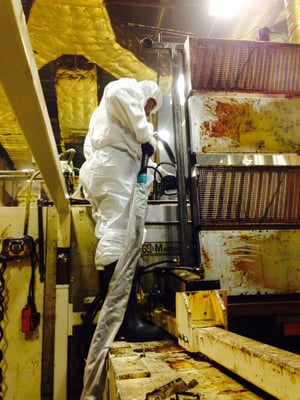 Coleman began investigating dry ice blasting and after hearing of Cold Jet's reputation, he decided to purchase an Aero 40FP and an Aero 80FP. He was very pleased with the results of the machines and has been able to complete projects in 40% of the time than they previously took.

The previous methods that Coleman used caused secondary waste that dispersed throughout the working area and was difficult to clean up. With dry ice blasting, he rarely has to use containment because dry ice sublimates upon impact and does not product secondary waste streams. This saves him a great deal of time, money, and resources. Not only does this result in shorter project times, but Coleman can now allocate the company's time and labor more efficiently.
"Dry ice blasting has given me the opportunity to conduct work in just about every field and industry from fire and smoke remediation to mold and lead abatement, and also food grade facilities."

- Mike Coleman, President, CMC Industrial Services
The company cleans grease, dirt, paint with a hazardous lead base, and many other contaminants from a host of surfaces, including steel, wood, and brick.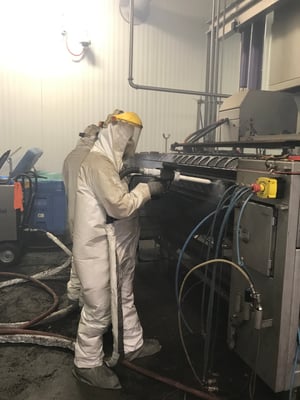 Cleaning and surface preparation can prove challenging with traditional blasting methods, such as abrasives or water, both of which create a hazardous workspace and require time-consuming containment setup and cleanup of secondary waste streams.
The most common use for his dry ice blasting machines is the cleaning of manufacturing and processing equipment. They focus on heavy industrial cleaning projects in manufacturing facilities, but also work on remediation projects, such as fire/smoke remediation and black mold removal.
His projects include cleaning generators at power plants, cleaning injection molds in plastics facilities, graffiti removal, cleaning processing machinery at food grade manufacturing facilities, and historical restoration.
Specifically, one of the most common applications is cleaning commercial and industrial printers. The printers have very delicate parts that cannot be cleaned with anything else besides dry ice without causing damage. Coleman has been cleaning one client's printing presses for over 12 years.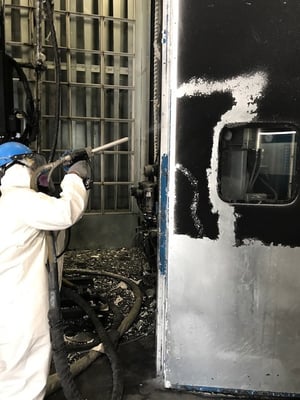 Coleman and his team also do a lot of lead paint abatement projects, in which they use dry ice blasting to remove loose and flaky paint in historical restoration work and remodeling.
After buying his first machine 14 years ago, Coleman has since bought about 20 machines from Cold Jet for his business. His preferred machines are the Aero 40FP and Aero 80FP for their high pressure capacity.
"We've had good support over the years from Cold Jet," he said. "We've stuck with them while we had many opportunities to go with other companies, but the customer service has always been excellent."


- Mike Coleman
Watch Coleman and his crew in action.