1. Mold cleaning
Dry ice blasting systems have helped automotive molders meet stringent industry demands such as 6-Sigma, Kaizen, 5S and TPM (Total Productive Maintenance). Dry ice blasting allows operators to clean molds while they are still hot and in the press. Cleaning with dry ice enables molders to optimize their manufacturing process by cleaning contaminants from cavities, vents and hard-to-reach places faster, better and more economically than traditional methods. This can reduce cleaning times by as much as 75% and decrease annual mold cleaning costs by as much as $50,000.
Dry ice blasting has reduced downtime by up to 80% when cleaning:
permanent aluminum molds

blow molds

compression molds

plastic injection molds

tire molds
Tire Molds
A major problem faced by tire manufacturers is mold fouling. Build-up of cured material and mold release agents causes sticking molds, blemishes and unwanted flash on final parts, making them unusable and requiring press shutdown for cleaning.
Dry ice blasting helps tire molders:
Clean tire molds in place; no cool down required

Reduce production shutdown

Reduce product scrap

Clean molds without causing damage

Reduce cleaning time and labor costs

Provide an environmentally responsible clean with no secondary waste
Learn about the benefits of dry ice blasting for mold cleaning>>
2. Weld line cleaning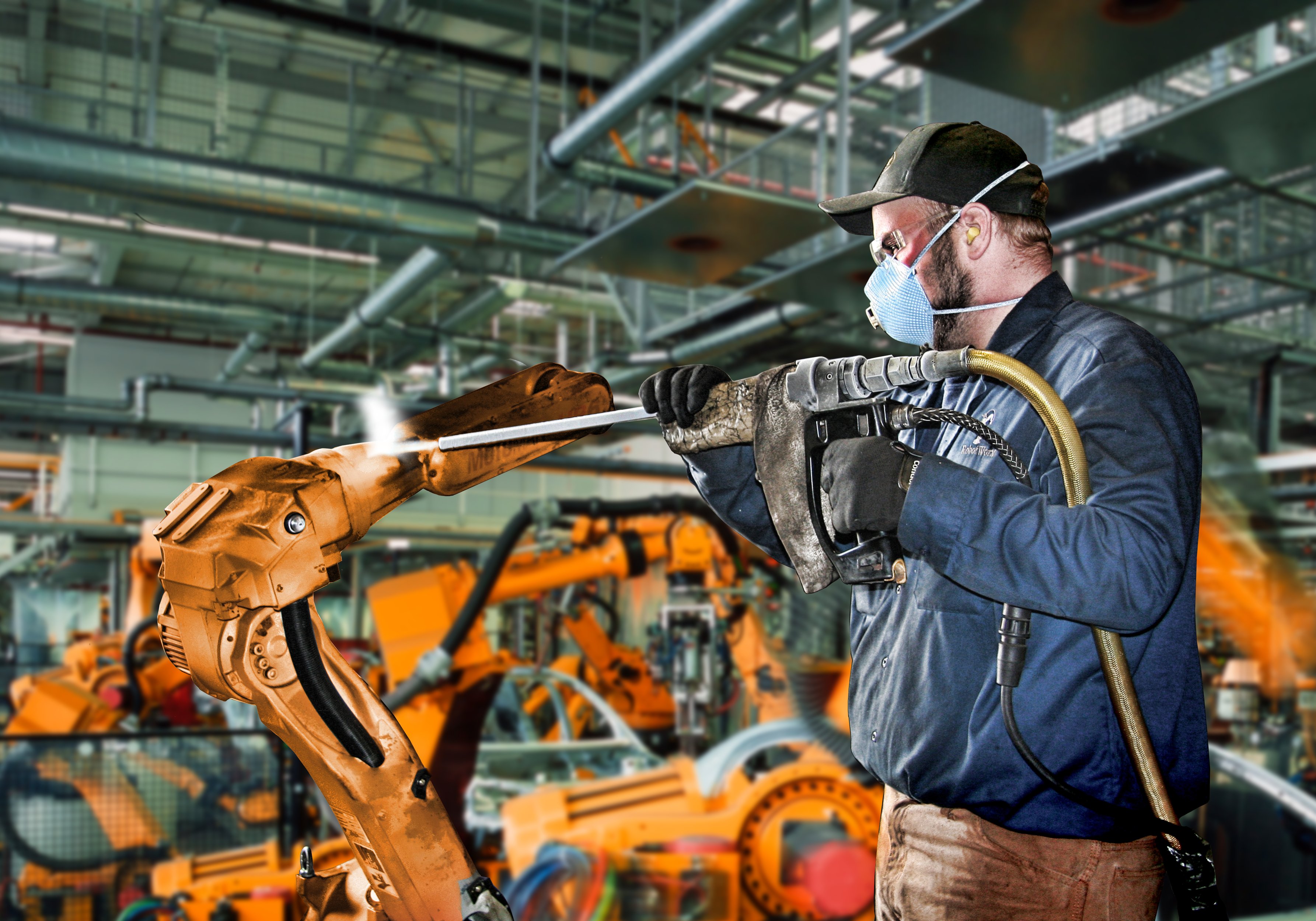 Weld slag is made up of small, high temperature, high velocity metallic particles that are released during resistance welding. Accumulation of weld slag, grease, sludge, and sealant result in operational problems. Removing weld slag is a key component in cleaning robotic weld cells.
Dry ice blasting provides an effective and economical no contact solution for removing weld slag and spatter buildup. Dry ice cleaning helps welders:
Reduce scrap rates

Minimize downtime

Clean without damage to sensors and other delicate components

Maximize tooling life

Clean without secondary waste

Clean online, no cool down required

Replace ineffective and costly labor intensive cleaning methods
Learn more about dry ice blasting weld lines >>
3. Paint Lines
Prior to the painting, cars and auto body frames move through an enclosed area where a gray like substance called e-coat is sprayed on the auto frame. E-coat is a protective layer applied before paint in order to prevent rusting. The rollers that carry the auto frames through this enclosed area accumulate buildup of e-coat which causes them to clog and slow down the process. When the rollers slow down do to clogging, there is an increase in production downtime and inefficiencies.
Pressure washing has been used to unclog the rollers, but this cleaning method creates over-spray and secondary waste, resulting in additional cleanup. Dry ice blasting can remove the e-coat material in a fraction of the time and can keep the rollers cleaner longer compared to pressure washing.
Automated dry ice blasting systems provide a uniform clean each time that helps to ensure a quality clean that reduces rejected parts. With the integration of an automated dry ice blasting system within the production line, the automotive industry is seeing further reductions in downtime, improvements in part quality, as well as a quicker ROI.